You are here:
home
→
Specialist Vehicles
Specialist Vehicles
The field of covert and overt vehicles is a very wide ranging activity to which a company needs many aspects in order to supply a service to its customers.
Cre8 Associates Limited have been supplying specialist EMC and Electrical/Electronic/RF Systems expertise to the sector for over 4 years and now supply the complete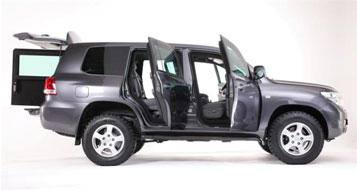 process within the UK. Our aim is to supply to the requirements of our customers, vehicles specifically armoured to required levels for supply into the UK for specialist fit, test and delivery to our customers for operations worldwide. In addition we offer ongoing maintenance and logistic support activities to our customers for the warranty and in service lifespan of the platform.
Non-armoured vehicles with any of the specific systems listed can be produced with upgraded mechanical and electrical characteristics to your requirements from the UK base.

Activities & Optional Extras
Cre8 Associates Limited offer:
Project Management and control from a UK base with single UK project manager
A UK based transaction with Cre8 Associates Limited
Selection and Procurement of the correct vehicles including, drive, gearbox, engine and system components, collaboration to ensure compatibility to existing platforms were required, and matching requirements to our customers needs and expectations
Armouring to required VR levels were required and specially designed suspension and braking systems to cover all up weights for desired operations and European Type Approval as required
Internal trim and furnishings to the design specifications
Import to the UK and specific regulation and registration process were required
Inspections and shake down in the UK at our location for customer reviews
Installation of specific systems to meet the end user requirements including:

Specialist electrical systems for 12 and 24 Volt supplies within the vehicle
Power Management and Emergency Start Systems
Covert control panels and power distribution panels
Specialist Controls for internal operations i.e. Windows and other OEM systems
Installation of Light Bars, Intercoms, Sirens, Winches, External Lights
Infra Red and FLIR systems
Light Isolation systems for covert operations
Cameras and specialist aids (navigation and driving)
RF Communications from VHF, UHF, TETRA and Satellite systems including controls and wireless internal communications
Emergency service controls i.e. flashing lights and horns
Fire suppression for under bonnet and under body fuel line systems
ECM and anti IED systems
EMC Filtered systems for the OEM vehicle
Antenna installation and performance testing
RF Cabling installation and testing
Specialist system design and manufacture to your requirements for specific functions i.e. vehicle battery charge plugs for connection and quick release on movement
Specialist Tracking and vehicle data systems

Specialist EMC and Environmental Testing to the required levels and where applicable any rectifications. All Control Plans, test plans and test supervision at recognised test laboratories
Final vehicle test on the proving ground including speed tests off high way performance, rumble testing and mileage accumulation
Driver Training activities
Delivery and sign off of the vehicle
Spares retention and ILS requirements
Manuals and Operating Guidelines
Vehicle Operational Training
Were requested, worldwide Vehicle Support Operations (VSO) and ongoing updates if required
Vehicle Types
The types of vehicles supplied to our customers range from covert armoured vehicles for operations in other countries to UK based agencies utilising European style vehicles. Our capabilities allow us to take most vehicles and re-engineer the internal aspects of the vehicle to accommodate armouring to various levels. If the vehicle is a VR Ballistic level the vehicle will be tested as part of the verification process before being certified in Germany. Current vehicles include Toyota Land Cruiser models (76, 100 and 200 series), Hilux, Sprinter Vans and luxury vehicles.
UK Services
Cre8 Associates Limited supply all the above services through its Bruntingthorpe offices . Operations at Cre8 Associates Limited can be viewed at any time to see the support given to the project. All management functions and reviews are controlled from Cre8 Associates Limited offices. Each product build will be managed within an Engineering File containing all aspects of the vehicle for future use.
Cre8 Associates Limited staff has all been security cleared on various projects in previous roles both within the company and with customers.
World-Wide Support
Cre8 Associates Limited offers world-wide support services were requested as part of the initial contract agreement covering specific aspects of the vehicle. This normally covers maintenance activities and repairs to certain aspects of the vehicle depending on its role and operations. Please discuss this requirement at the initial discussions if you are considering it as part of the project.